ISLC's Summer Language Institutes are a very effective way to quickly acquire the fundamental skills needed to communicate in the language effectively.  With up to four different levels of language courses offered and a proven strategy to develop communicative skills fast, those who already possess some skill will be able to effectively take their ability to the next level and then some.
Summer 2018 ISLC Institutes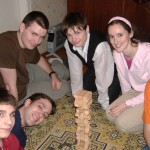 Courses & Schedules
Summer Arabic Language Institute (ALI):
Elementary Arabic I: May 30 – June 16  (7:45 – 11:15 am)
Elementary Arabic II: June 19 – July 7   (7:45 – 11:15 am)
Intro to Arab Civilization & Culture: May 30 – July 7  (11:30 – 1:10 pm)
Summer Chinese Language Institute (CLI)
Elementary Chinese I: May 30 – June 16   (7:45 – 11:15 am)
Elementary Chinese II: June 19 – July 7  (7:45 – 11:15 am)
Intro to Chinese Civilization & Culture: May 30 – July 7  (11:30 – 1:10 pm)
Accredited or non-accredited Tuition Available:
For each complete program (including language and Intro to Civilization courses), 9 undergraduate academic credit hours may be received if enrolled through Moody Bible Institute-Spokane. Undergraduate tuition is $355.00 per credit hour. Please contact MBI-Spokane for more information.
Enrollment deposit $100.00. The enrollment deposit is non-refundable and will be applied to tuition.
Non-Accredited Course Tuition is $2150.00 for the each 6-week program (language and intro to Culture) Please contact ISLC for more information at: (800) 799-7976
Housing
A number of good options are available close to campus. Please contact us if you are in need of housing and we will be glad to help anyway we can.
ISLC's Traditional RLI Program

In the past, ISLC has offered an intensive 8-week Russian program Stateside. With recent developments in our full-time, year-round program in Spokane, WA, the 8-week summer program we offered in the past is no longer available. Instead, we now offer both an RLI Abroad program in a Russian-speaking country, and our 8-month intensive program that begins each fall. Reasons for this change include the observation that American students tend to see an 8-week intensive as adequate preparation for immersion, life and ministry. While such a foundation is a good "jumping off point" for immersion, if such a brief introduction is relied upon as the sole intensive language experience, the average individual will not be able to develop native-like proficiency through immersive or other in-country programs or experience in the long term.
2017 RLI Abroad in Kiev has been cancelled for this year
We apologize for any inconvenience this cancellation has caused those of you who have expressed interest in studying with us this summer. We earnestly pray that God provides for your language needs this summer. Please contact us to learn about other options.
RLI Study Abroad Program Description:
Our Russian Language Institute Abroad, held in Kiev, Ukraine during the Summer, is designed for the student who already has a high novice, intermediate or lower advanced proficiency in Russian, and would like to take that proficiency to the next level.
Two intensive courses are offered for the 3-week program:  Correct Grammar in Spoken Russian, which enables participants to overcome common grammatical problems in speech and take their spoken proficiency to a more native-like and culturally-appropriate level; and Biblical Russian for Discipleship, a course that is designed to equip the student with the vocabulary and skills to discuss key aspects of the gospel and apologetic issues in Russian.  These two courses are also planned as part of a new online language program to begin September, 2017.
Study Abroad Schedule:
Classes meet about 4 hrs. each day, four days per week (both courses together). Classes will run from 8:30 am till 1:00 pm each day, with a teacher-student lunch following our last class. Each course will meet for 2 hours per day with appropriate breaks. Fridays will be devoted to morning forays and tours around Kiev, with afternoons devoted to study.
For students traveling abroad from the States (and those in-country who would like to join us), an additional four days is provided to explore Ukrainian culture, history and current ministry opportunities during a tour of Western Ukraine.
Who can Apply?
Students who have studied intensively at RLI during the previous cycle, or who already have the appropriate level of proficiency for this course are welcome to apply. We also serve those who are already living and working in Russian-speaking countries.  To enroll, please first contact us at 800-799-7976 or email Dr. Canner directly at: mcanner@moody.edu
Please call ISLC at (800) 799-7976 for more information.
Summer RLI Abroad Tuition:
Correct Grammar in Spoken Russian – $500.00
Russian Bible & Discipleship -$500.00
Entire Program (both courses) – $900.00
Room & Board: TBA
* Dates subject to change due to scheduling needs