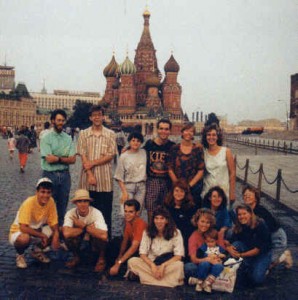 The desperate need for missionary training in Russian language and culture became apparent during  mission work in Ukraine between 1990-92. The fact that Russian has never been a widely-studied language in the United States, combined with the language's complex grammar, has ensured that very few North American missionaries have been able to acquire the abilities with the language necessary for effective ministry. And the lack of any proper understanding of the culture among Americans causes Americans to make many missiological mistakes which result in extreme difficulties while working there. As a result of this need, Russian Language Ministries (RLM) was born in the Spring of 1992.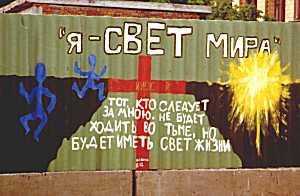 The early years: This early '90s gospel message appeared on a wall in downtown Dnepropetrovsk, Ukraine.  The authorities white-washed it the very next day…
Drawing on a shoestring budget, two instructors, and confidence in our Great big God, RLM began with its first pilot course in the Spring of 1992 with 16 students in Albuquerque, NM. During this time RLM incorporated and received tax-exempt status as a 501(c)(3) publicly-supported organization. Originally designed to both train new teams in language and culture and then lead and establish new churches overseas, by late 1993 we realized that the ministry could not do both! We soon focused our energies on missionary language and culture preparation for the former Soviet Union. We soon forged a partnership with Columbia Bible College and Seminary (now known as Columbia International University) in Columbia, SC, and began our intensive summer programs there.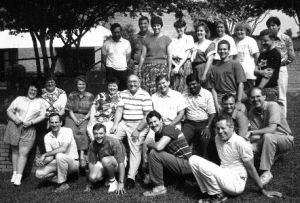 This partnership inspired and necessitated RLM to move its headquarters from Albuquerque to Columbia in early 1996. After 18 years of training cross-cultural workers in Columbia, RLM and its new and growing language and culture institutes under LCTI (formerly ISLC) have relocated to Spokane, WA, where we are now developing new cutting-edge programs to train the next generation of cross-cultural workers to impact the world for Christ. Among other cultures, Spokane is home to over 40,000 Russian speakers with more than 20 Russian-speaking Evangelical churches. The city also has a vibrant Chinese Christian community and growing refugee communities from various parts of the world, especially the Middle East.
It has always been our goal to develop the finest language and culture training of its kind anywhere in the world, and this move has enabled us to continue to expand our programs. We are currently developing programs for other languages and cultures, a new Cross-cultural preparation and language Acquisition course, an internationally recognized TESOL certificate and hope to offer intensive training in Arabic in the near future.
To date LCTI has trained nearly 1000 cross-cultural workers for the Russian-speaking world. As we have in the past, we continue to trust the Lord for His guidance and provision for an exciting future.
Interested in working at Language & Culture Training International? Click here for more information.